creating global conversations with online events
Whether you are hosting a virtual summit, conference, course or any other type of event, let us help. At Forsyth Solutions, we understand that online events are inclusive.
Virtual events open the doors to everyone!
Why host an online event?
Having attended pop-up conferences and in person events that have transitioned to be hosted online we have been underwhelmed with the overall experience.
Missing/ineffective pieces include:
little or no follow-up after registering for an event without enough event information (or after the event)
events starting late
attendees do not know how to attend sessions
broken (or missing) event links
Our team guides you through the process of transforming your event idea into an exciting, engaging & economical virtual event connecting you with your audience right in their home.
Attract More Attendees
Communicate worldwide with new and existing audience
More people can attend; no worries about fitting everyone into a room, especially with social distancing challenges
Attendees do not miss out on family time because they are in the comfort of their own home
Generate New Revenue Streams
A virtual event allows you to connect your products and services to everyone worldwide
Offering a variety of pricing options to your audience allows your audience to choose the experience that suits their needs
Online yet Still Personal
Hosting an online event is about connecting people, sharing ideas and creating an engaging experience that is enjoyable and helpful to your audience, in your way.
Connect with more people worldwide without expensive costs and travel time. Online events can include group chats in real-time, breakout rooms with audience participation and create real-life human connections with your audience and your business.
We believe you can get your message out to your audience without losing your sense of self and without it being robotic.
Connecting Your Community
Virtual community pre-event, during the event and continues after the event. Keep people talking and connecting leading to long-term customer relationships with your business and on-going sales.
As a bonus, virtual events also reduces your business carbon footprint!
Lower Costs = More Profit
Virtual events eliminate the need for renting space, equipment, seating, lighting, decorations, booths, hiring caterers, travel, hotel rooms, food expenses for your team.
Generate More Qualified Leads
Using the audience information you generate from your online event, you can reconnect with your existing audience and your new audience.
Through the sales, social media and event engagement, build stronger relationships leading to new leads, event sales and future sales of your products and services.
Technology Translated to Human Connection
We help you with proven tools and systems to eliminate the guesswork out of planning, designing, coordinating, launching, and supporting your online events.
Generate New Revenue Streams
A virtual event allows you to connect your products and services to everyone worldwide. 
Offering a variety of pricing options to your audience allows your audience to choose the experience that suits their needs.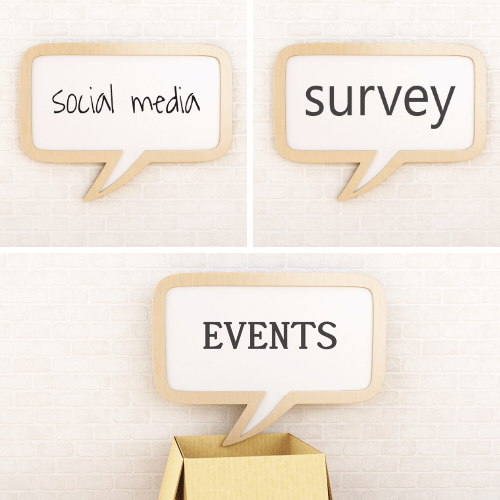 Increase Engagement with Interactive Content
Keep your audience involved by encouraging direct, live interaction through the use of group chats, virtual breakout rooms, private social media groups and social media interaction.
Personalized Services
Your voice, your business, your brand are unique. Your event is unique too. Utilizing our event playbook and our unwavering support to guide you through the overwhelming event production process creates a custom, personalized event to deliver your message, your way. You're not alone, we've got you covered!
In Your Corner
We can help you feel comfortable with being on camera, creating professional content and bringing all the pieces together. Whether you've created online content before or not, we're here to support you with direct coaching, templates and more to make your event a success.
Technology
The tech involved with your online event can be overwhelming: videos, capturing your audience registration & follow-up before, during and after your event, digital content for your participants, the list goes on. We help you sort it out and give your audience the best experience.
Scalability
Your content can reach anywhere from hundreds to thousands to millions through the constantly evolving world of online software. We ensure your content can reach the most people with the least effort.
Rooms & Spaces
Even with pre-recorded content, there is opportunity to have breakout rooms, group chats and other ways to keep your audience connected to you and your business plus to each other.
Making Real Connections
Engagement from your team with your audience on social media takes your online event to the next level in value for your audience. You (and your speakers) connecting with your audience creates authentic relationships and improves engagement plus loyalty. The more connected, the more likely those participants will turn into customers and refer you to their friends and family.
"These girls are the diggity dog!" Sam talks about how Dani and Michelle were able to successfully implement a complicated launch, while she was on vacation! Watch the video to discover how your experts have real-world experience making things happen for small businesses. Watch the video below!
Dawn worked with Dani and Michelle on a "flawless" telesummit. Watch the video below to hear how their strategy and knowledge made her job so much easier!
Learn More About How Your Event Comes Together
Platinum Event Production
Our expertise at your fingertips. You invite the speakers and conduct the interviews. We handle nearly all the moving parts of bringing the event to fruition.
Video Production & Graphic Design
Customized intros/outros that work well with your event content, YouTube channels and more. Take your content to the next level of professionalism to bring polish to your event. This is ideal for attracting sponsors.
Strategic Support
We've got your back with skilled guidance, motivation, accountability and tactical solutions for those sticky moments throughout the entire process.